Jim Passé is best known around the world for his award winning illusion show. Our illusion show is designed for audiences of 100 or more and ranges from 30 minutes to 70 minutes in length. We perform shows open to the public and can custom design an illusion show for your next event.
In addition to our largest and smallest illusions, we include mindreading, classic parlor magic, dance numbers, audience participation, levitations, and everything you've come to expect in a world class illusion show.
Checkout the short videos and you will see the incredible show you can book for your next event. Checkout our home page for public show dates. If you would like information on booking an illusion show, including prices and available dates, please contact us for further, no obligation information.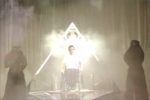 The Pyramid introduces the magician at the beginning of our largest show. Almost 15 ft high, it is an imposing illusion on any stage. Materializing from the mists of an empty glass pyramid, Jim Passé, accompanied by his dancers, set the tone for an evening of mystery and magic.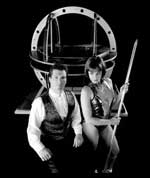 A young woman is confined in an open steel sphere. The audience can see her throughout the illusion. She is locked in and pierced with a magical rod; the sphere splits in half taking half the woman with it. Impossible, but she lives, unharmed.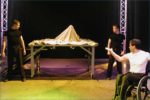 Another illusion used to open shows, the Phoenix Table allows the audience to see Jim's dancers appear from nowhere but the top of a table.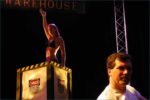 Jim Passé draws a young woman confined in a steel-walled box through the front metal wall of the box in full view of the audience. You won't believe what your eyes are telling you!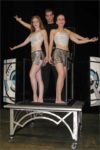 Million Dollar Mystery Is this possible?
Did we really see 20 people produced from a box 3 foot square sitting in the middle of the stage?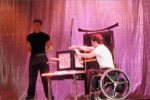 Classically elegant and breathtaking, Jim coaxes an assistant into a box which folds in to foot-by-foot dimensions. If that wasn't enough he then pierces the box with 3 swords, while the assistant is still inside.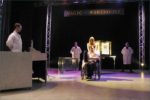 A wild experiment of scientific proportions! One of Jim's assistants is placed in a box, defying death, as it whirls at more than 90 rpms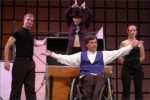 A tribute to the great Harry Houdini, Jim is hand-cuffed, shackled and locked inside a wooden chest . . . How will he escape?