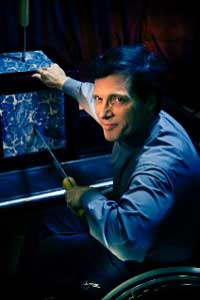 Jim Passé (Magician)
grew up in Chicago, the Windy City, a town with a reputation as home to some of the country's best magicians. At the early age of 6, Jim's aunt spawned his interest in magic with the gift of a few small "magic tricks" purchased from a professional magic shop in the heart of the city.
His interest in performing magic was cemented at the age of 10 when he was pulled up on stage from the audience at a holiday magic show to be the magician's assistant in "Misers Dream". The Magician pulled coins from Jim's ears, nose and mouth to the thundering applause of the audience. He was hooked!
While Jim had been performing magic for small parties and friends during his childhood, his parents always encouraged him to get a good education and supported him attending college where he obtained both a B.S. in Pharmacology and a Doctor of Law. They also supported his quest to race velodrome bicycles at an international class level.
Despite these successes, Jim's true calling has always been performing magic. As Jim made his way through life, the close-up magic of his youth turned first to parlor magic and then to the stage illusion show of today.
As Jim became more successful in his magic performances, his show grew larger. In 1994, after moving to North Carolina, his current home, Jim held a charity fundraising event in the area's largest (2200 seat) auditorium performing his first stage illusion show. The show was an incredible success, and Jim began performing shows around the Southeast.
It wasn't long before he also began working on designing exciting new illusions to compete in the International Brotherhood of Magicians (the "IBM") annual international stage competition. Tragedy struck in 1995 during delivery from Las Vegas of a newly designed illusion for the IBM competition. The delivery crew accidentally bumped a 950lb-shipping crate, containing the illusion, as it was being positioned for unloading from the delivery truck. The crate wildly swung off the truck's lift and struck Jim while he was standing off to the side of the truck. Jim sustained a serious injury to his spine, which left both of Jim's legs permanently paralyzed, and left Jim in a wheelchair. Jim's recovery and acclimation to dealing with paralysis took two years and those around him will tell you it was nothing less than as amazing as his magic.
Jim's desire to continue performing was intense, and in 1996 Jim stunned the entertainment world as he performed his Magic Warehouse® stage show but this time from his wheelchair. Jim's show is now more than just an incredible Las Vegas style illusion show. Filled with the pure magic of the human spirit, the show is proof we can overcome the challenges that occur in each of our daily lives.
In 1997 Jim designed two new illusions ("Paradox Sphere" and "Steal and Glass") and entered them into the IBM international competition. That summer in Minneapolis, in competition against magicians from 80 countries, Jim became the first big stage illusionist to make the finals of the competition. After tying for first place in the voting, Jim received the 2nd place trophy based on the flip of a coin. Later that fall, "Paradox Sphere" was named best new illusion by Magic Magazine. Jim was now performing all over the country including Las Vegas and an appearance on NBC's World's Greatest Magic as one of the headliners. Jim was becoming firmly established as among the world's greatest Magician's elite.
Today, Jim continues to tour the country and perform new and cutting edge illusions. Since 1998, Jim has also taken time out of his hectic touring schedule to perform a dozen or more fundraising shows per year. These shows aid children, persons with disabilities and others that can use his fundraising help.
This is just the beginning! The show continues to grow, create new illusions and is one of the most innovative in the country.
So, like we say…
"Sit back, relax and prepare to experience the impossible!"